Stäubli Offers The Best Of Both Worlds.
There is little doubt that the concept of humans and robots interacting and collaborating continues to gain ground across many different industries and applications. True collaborative robots are now available from an increasing number of manufacturers and therefore those considering the purchase of a robot system now have to decide whether the best and most appropriate choice will be a Cobot, or whether a traditional industrial robot will offer the optimum solution.
Of course, there will be instances where the choice is clear. For example, if a high degree of interaction between the robot and the human operator is required, or if production volumes are low and the application does not require a high degree of precision or sophisticated programming techniques, then a Collaborative robot or Cobot would be the natural choice. The selection process begins to move towards an Industrial robot in applications where higher precision is required, greater horizontal reach, heavier payload capacities and higher speeds are needed, and where the interaction between the robot and operator is perhaps more limited.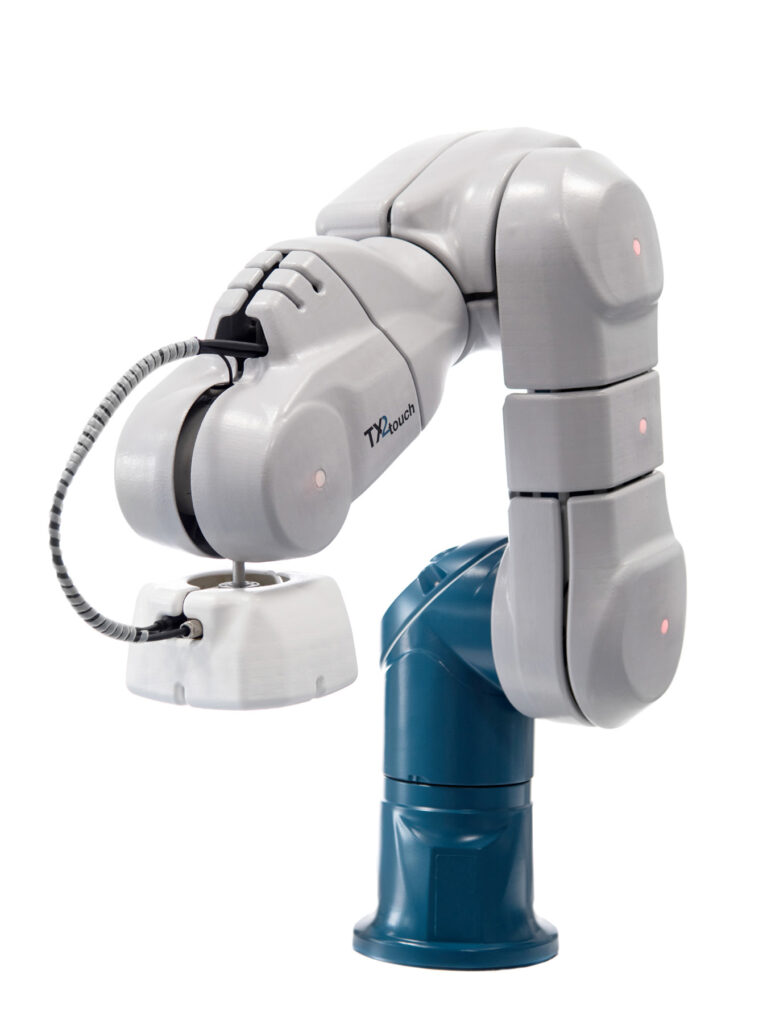 Stäubli's TX2touch range of robots offers a unique Cobot solution
Another consideration, which further tilts the balance towards that of the Industrial robot, is where integration to other process and peripheral equipment, field devices, or MES/ERP systems is required. Whilst Industrial robots, and their control systems, have sophisticated capability to interface and communicate with the production system and beyond, the architecture of the typical Cobot control system is often much more restricted and less able to deal with more complex requirements.
Optimising Productivity and Collaboration – The Best of Both Worlds
There are however options available where all of the benefits of the Industrial robot are combined with a set of unique modular safety functions to provide high levels of productivity from a Collaborative robot.
Stäubli's TX2touch is a unique range of cobots designed for safe Man Robot Collaboration. Based on the already field proven TX2 industrial robot, these robots offer safe man-machine interaction and operation thanks to their advanced skin technology, quick reaction time and embedded modular safety functions. The TX2touch range are the only cobot's with a SIL3-PLe safety level. These highly productive robots offer the performance, smart connectivity and reliability inherited from TX2 robots and the CS9 controller.
The advanced skin technology brings additional functionality to enable the following SAFE features. When you touch the skin the robot stops and in the event you were to be hit by the robot when in motion, it will not hurt you. Even if the user was trapped by the robot there is no possibility of a crushing injury. Skin pads are also available for any tools that the robot may be using, and these can be added whilst maintaining the same safety level, easing safety certification of the robot cell.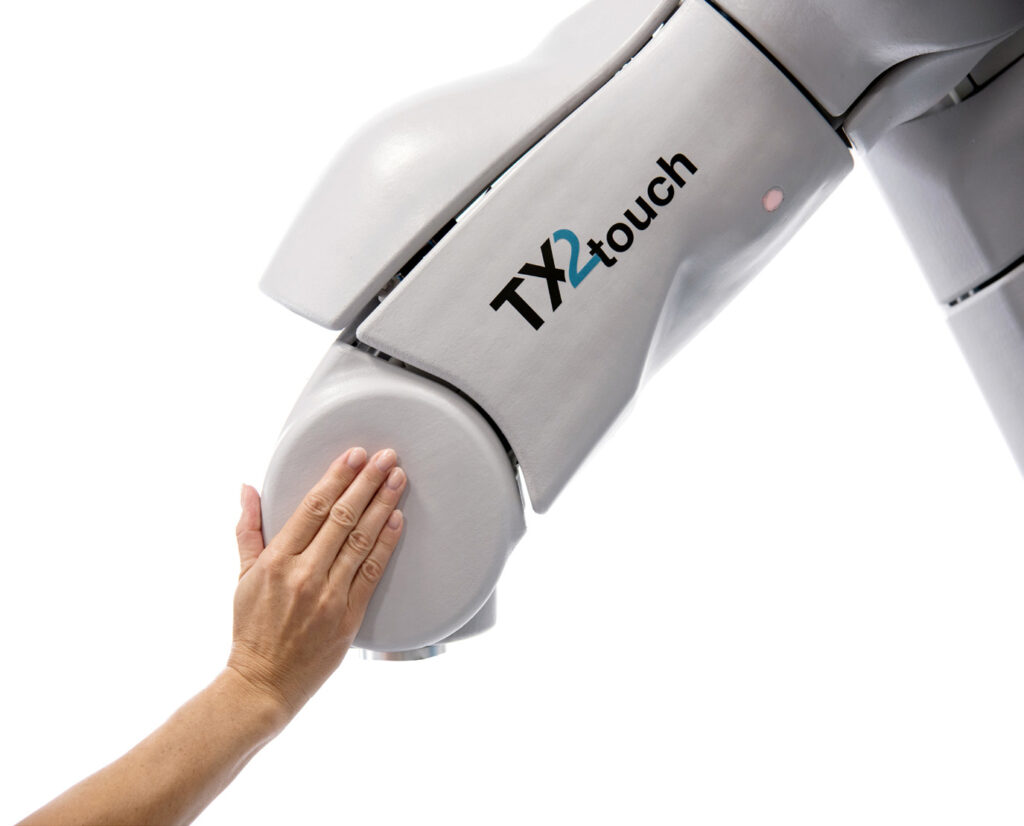 A further benefit is that these skin pads will protect items such as any integrated cameras, measurement devices or grippers by preventing collisions. Based upon the already highly successful TX2 Industrial Robot, the TX2touch range offers payloads between 3.5kg and 10.0kg, with horizontal reach from 670mm to 1,450mm and repeatability between 0.02mm to 0.04mm depending upon model.
Collaborative Functionality From Industrial Robots
Stäubli's TX2touch range of cobots uses five different safety functions. These are Safe Limited Speed, Safe Stop, Safe Zone, Safe Tool, and Safe Touch. With the exception of Safe Touch, the other safety functions are also available on Stäubli's comprehensive range of Industrial robots via the CS9 Controller. This allows users to configure their robot to suit the task at hand and make it possible to switch between highly productive and collaborative applications as required, whilst retaining the full benefits which true Industrial robots offer.
The ability to set the balance between productivity and collaboration allows manufacturers to benefit from the concept of Man-Robot collaboration, whilst still attaining performance and productivity levels that will meet production requirements and justify their investment in robot technology.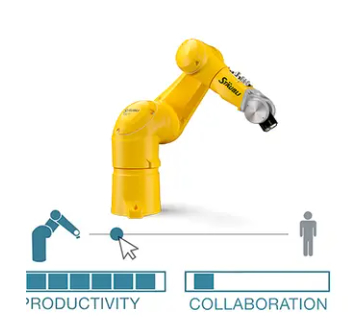 A combination of Safe Zones and Safe Stop functions can be used to protect operators in man-robot collaborative applications. If for example the robot is situated behind safety fencing and is performing all of the tasks, performance and productivity levels will be high, but there is little in the way of collaboration within the manufacturing process. Any interaction by an operator would see the robot enter a Safe Stop condition, with the arm still powered, but ready to restart again once the safety interlocks have been restored.
Different levels of collaboration would allow the operator to access the robot work area through the use of virtual safety guarding, such as a light-guard, to perform duties that may include removal of finished parts or replenishing parts feeders. Increasing the level of collaboration still further would be applicable in instances where both the operator and the robot are required to be involved in the process. The robot's speed can be reduced to mitigate against risk, allowing it to keep working at low speed in some areas when the operator approaches a Safe Zone.
The ability to select from a range of 6-axis robots that already have established their performance and reliability credentials, and which can be configured to operate in a collaborative manner, or choose a model from the TX2touch collaborative range, which are also fully capable of operating in a wide range of industrial environments, provides users not only with the optimum choice, but delivers significant advantages over other collaborative robot types.