Maximising Datacentre Performance Through Effective Liquid Cooling
As individuals we very much take for granted the convenience which our connected devices deliver in our daily lives. Whether it's for work, entertainment, personal banking, or on-line shopping, we expect on demand and high-quality connectivity. As we enjoy the ability to use social media, speak, browse, and conduct our business via video calls, little thought is given to the infrastructure which delivers the connectivity we have come to rely on.
Data centres are at the heart of our connected lifestyles, and as the global data sphere continues to expand year on year, as a result of the advent of 5G, the IoT, and now increasing use of AI, competition within the data center market is becoming intense. Irrespective of whether a data centre is the size of a small room or a vast facility spanning tens of thousands of square metres, they need to operate around-the-clock. High quality and continuity of service are vitally important for facilities providing access to the digital economy. The security of the data centre and the data hosted there are key factors in allowing the entire web ecosystem to run smoothly.
 The flawless service continuity we have come to expect can only be guaranteed through a minimum of downtime and the highest levels of data centre availability. Data centre providers guarantee their facility's availability by ensuring an uninterrupted electrical and digital power supply and, importantly, keeping their servers cool to prevent overheating. 
(Liquid cooling technology from Staubli enhances performance through excellent flow rates) 
Traditionally the server racks and CPUs within data centres used air cooling, where cold air is blown across or around the servers. However, as server density has increased, and the number of processing intensive applications, such as AI which generate more heat have increased, air cooling technology is increasingly being stretched to the limits of its effectiveness and efficiency.
One of the main benefits of high-density server racks is the ability to boost computing power within a data centre's existing footprint, however compact and highly efficient cooling is a must if optimum storage, high-performance and utilisation levels are to be achieved. The space available within server rooms can be further optimised by installing liquid cooling systems as close as possible to the heat sources. Liquid cooling, which is a far more efficient method of transferring heat than air, can be used to enhance existing and sometimes cumbersome air-cooling systems, which is why a combination of different cooling systems can be found in many data centres that have been upgraded.
Compact, High-Performance Liquid Cooling Solutions
Stäubli is recognised within this sector as a true innovator, by embracing liquid cooling technology from the outset and guiding its customers through what is a technological revolution. The compact design of Stäubli couplings makes it possible for them to be seamlessly incorporated into installations within confined areas, whilst ensuring excellent flow rate performance. These quick-release couplings represent an essential link in the cooling system. The superior quality and strength of Stäubli couplings make a positive contribution to reducing data centre maintenance and improving server reliability.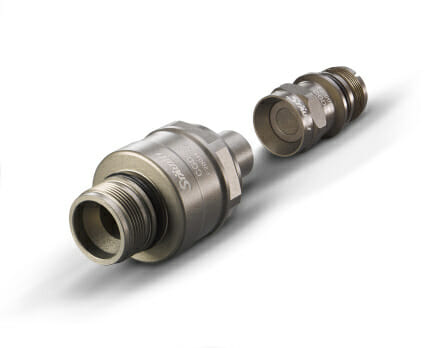 When performing upgrades or maintenance on mission-critical components, such parts must be hot-swappable, to allow them to be replaced without disrupting the service. Stäubli's quick-release couplings make it possible for circuits to be safely disconnected and reconnected even when pressurised. This eliminates the costs that would be incurred if part of the system had to be temporarily shut down. 
Stäubli's flat-face non-spill technology ensures perfect watertight circuits during connection and disconnection. Stäubli couplings feature an internal design which guarantees optimised fluid flow and minimise pressure loss. These quick-change connectors therefore allow for rapid maintenance and generate energy savings. By reducing pressure drops, they require less pressure and therefore minimise the amount of energy required for cooling. The quality and reliability of the couplings used in these instances play an extremely important role, as inferior or faulty connections would not only jeopardise the hot-swapping process but could also prove to be dangerous to operators.
(Stäubli's flat-face non-spill technology ensures perfect watertight circuits during connection and disconnection)
Stäubli's liquid cooling technology helps maintain the highest levels of continuity and availability, achieve optimum data storage and space utilisation levels, whilst improving energy efficiency levels to mitigate today's soaring energy costs.
For more information, please contact:

Stäubli UK Limited
Hadley Park East
Hadley
Telford
TF1 6QJ
Telephone: +44 1952 671917
Web: www.staubli.com