Filter, compare and configure your ideal drive solution in just a few clicks

The STOBER Online Configurator is specifically designed to enable users to find the right drive solution quickly and easily in just a few clicks.
The STOBER Online Configurator brings together the complete STOBER System Solutions of globally tried and trusted Gear Units, Geared Motors, Motors, Electronics and even Cables in one place and allows the user to 'build' their own bespoke solutions. Each solution can then be saved and shared with others to facilitate and inform decision making and investment.
Explains Martin Preece, Head of the UK Subsidiary: "The Online Configurator is an extremely useful tool that can be accessed via the STOBER website on laptop or smartphone.
"This online tool is operated intuitively via a clearly designed interface and opens up a world of different configurations in a matter of seconds. Users can quickly design their individual solution in real-time with just a few clicks. Simply select the product you need, such as 'Geared Motors', then work your way through the product offering and combinations to select exactly what you need for your specific application."
Continues Martin: "For this very purpose, the software has numerous filters and comparison options. After configuration, all essential information is available for download, and users can also request a quote directly.
"We are always looking for ways to further support both our new and existing customers in tandem with our corporate strategy of providing them with even more comprehensive support through digital service. The Online Configurator does just that."
Concludes Martin: "As a solution partner, we are focused on providing each and every one of our customers with all the support they need to implement complex motion. Users benefit from reliable, cost-effective, and powerful solutions alongside our unrivalled expertise across a number of industry sectors including Automation & Robotics, Plastics Machines, Packaging Machines and Tools.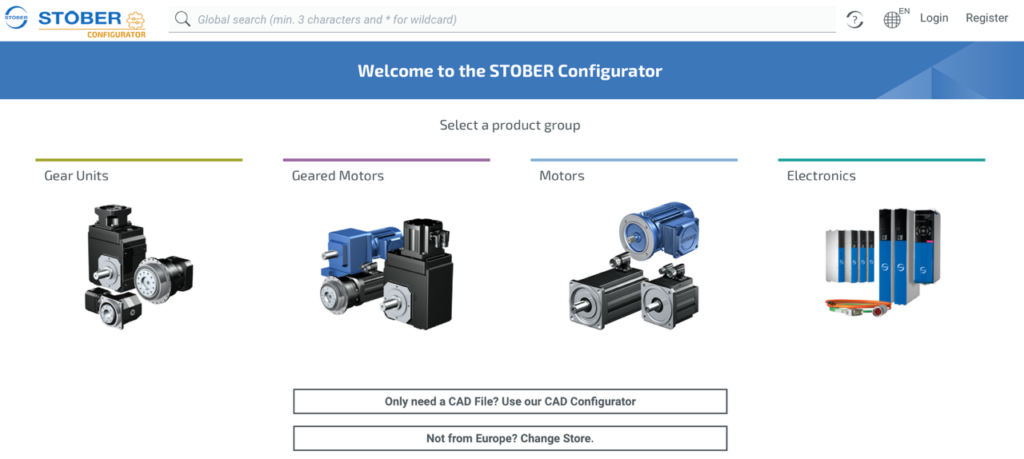 "Initial feedback about the Online Configurator from our existing customers has been very positive – it's time to make it yours and we've made it even easier and faster to do so!"
To find out more, watch a 30 second video https://youtu.be/UgnLE7btOjo on the Online Configurator and visit www.stober.com to start your own configurations.