The latest class of sensors introduced by sensor specialists BAUMER continues to push the boundaries of performance by combining outstanding measurement precision of up to 5 micrometres in an ultra-compact package. Using profile analysis, the 'smart' 2D OX series sensors are now able to solve a variety of challenging positioning and inspection tasks more efficiently and more economically across a wide range of assembly and handling applications.
These 2D profile sensors are ideal for manufacturing applications wherever OK/NOK inspections or positioning tasks are possible via the evaluation of height information. They enable measuring ranges of up to 500mm with a field view of up to 300mm, ensuring design 'freedom' for numerous applications. A comprehensive set or integrated tools can be parameterised directly via an intuitive web interface to ensure complete processing of the profile data directly in the smart sensor.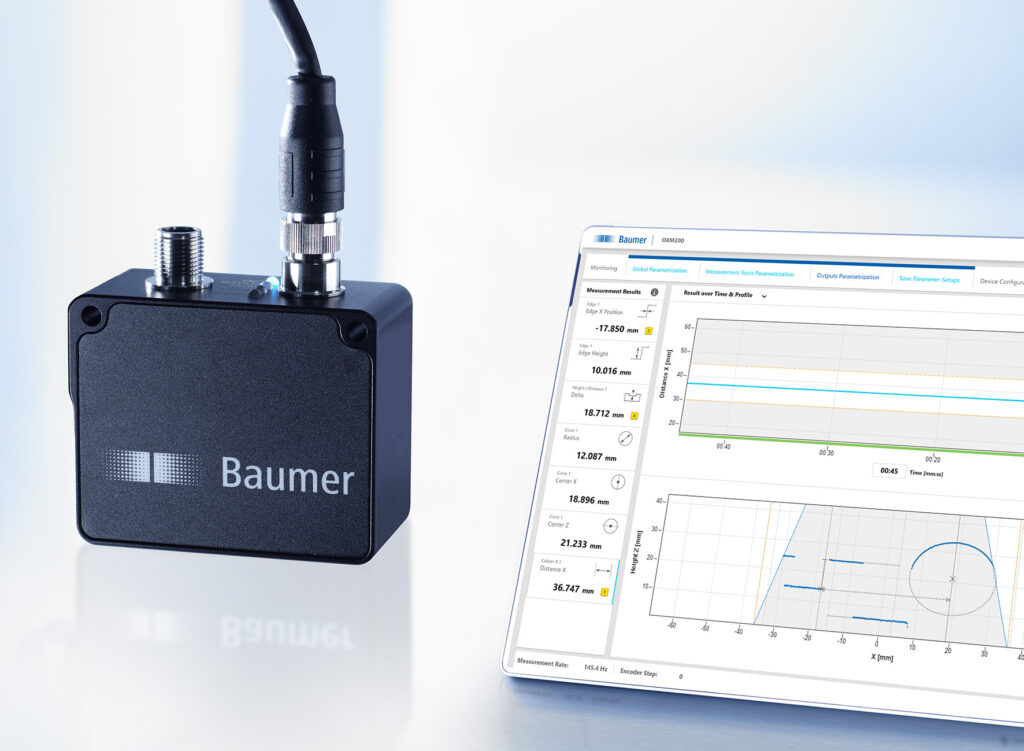 Without the need for any external steps, the sensor can transmit the X/Z position value to the controller – with a precision of up to 5µm. This standard of performance means that the OX sensor enables more cost-efficient sensing solutions in quality control, web edge control and robot positioning. Another advantage is the live visualisation of the measurement tasks in the web interface, where settings in the sensor can be directly checked, adjusted and optimised.
The new OX sensors are compact and lightweight and can be simply connected with a single cable thanks to PoE (Power-over-Ethernet). They are ideally suited to height checks of assembly parts, control and positioning tasks in robotics, such as position checks of feeder parts for pick-and-place applications, or gap checks in automotive manufacturing.
More at: www.baumer.com/OXM200