UK manufacturer and supplier of standard parts and components, WDS Components, has launched a range of environmentally friendly hand knobs. Ideal for machinery and OEM use, the new hand knobs are made from a sustainable, biological source and are 100% recyclable. The range is also highly durable, making them an environmentally friendly substitute for standard polymer designs in the majority of use cases.
WDS has duplicated its entire range of glass-reinforced polymer hand knobs in a biopolymer source, specially supplied from European forestry. Crucial for industrial use, the company has made extensive research to partner with a supplier that can provide sustainable and recyclable materials that are as durable as a standard polymer design. As a result, the new hand knobs can be used across virtually all of the same applications as standard polymer designs.
The new designs are well suited to outdoor use and activities in rugged locations. As a result, the environmental hand knobs can be specified for applications such as the adjustment of cameras and optical equipment, through to outdoor machinery. They are also an ideal replacement for indoor machinery for environmentally conscious organisations.
The new hand knobs are created to the DIN6336 star knob design, and comprise a black biopolymer knob grip with a zinc plated steel shaft. The range is available in thread diameters ranging from M5 up to M12, and both male and female designs are available.
"The new range of environmental hand knobs has been introduced to fulfil demand for companies with a focus on sustainability," says Sam Wilkinson, Design Engineer, WDS Components. "This impetus was recognised by WDS Components' Sustainability Task Force, an inter-departmental team that focuses on sustainable development covering all areas of business operations, including new product development. Our challenge was to add a hand knob to the WDS catalogue that is from a biological source that was as durable as a standard polymer, and we've achieved that with our new range thanks to a special design that is supported by the right material sourcing." As a result of the success of the new product launch, WDS expects to release further standard parts and components constructed from the environmentally friendly biopolymer.
WDS holds extensive stock of the new hand knobs, making them suitable for high volume OEM order. To assist design engineers, full specification details are available on wdscomponents.com, including free to download CAD images in nine major formats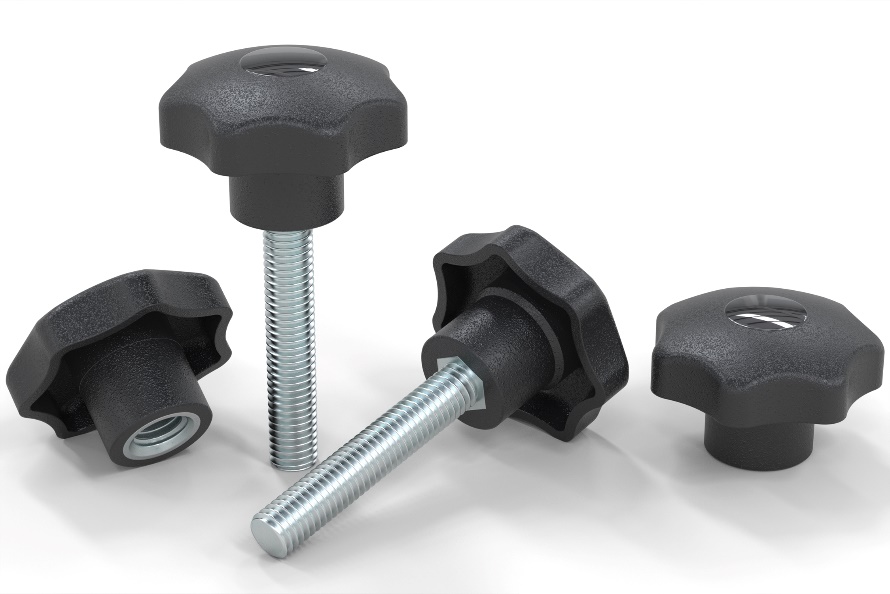 WDS range of glass-reinforced polymer hand knobs in a biopolymer source.
Website: WDS COMPONENTS.COM