Apex Dynamics UK has launched a new highly-adaptable range of helical gearboxes and geared motor combinations. The new products are designed to meet the needs of many different industries and applications, and offer an impressively large power and torque range (0.09 kW-200 kW/85 Nm-50,000 Nm).
The high performance G-Series delivers a wide variety of potential installation positions and meets the European market standard footprint, enabling common design interchangeability. Meanwhile, the compact design of the reduction transmission devices saves space. Each product also delivers low noise, stable operation, long service life, and lower maintenance and repair costs. This is the result of the gears within the G-Series' giving a vertical output, large transmission torque on hard tooth surface, and high precision.
Wide range of options to suit different industries and applications
With a high load capacity, reliability, broad power range and finely graded transmission ratios, G-Series products are ideally suited to the metallurgy, mining, lifting, transportation, cement, construction, chemical, textile, printing and dyeing, and pharmaceutical fields in particular.
The G-Series range comprises four different variants of helical gearboxes, including right angle and inline options, in order to meet different application requirements. Customers can choose from the GR-series coaxial helical gearbox, GF-series parallel shaft helical gearbox, GS-series helical worm gearbox, and GK-series helical bevel gearbox.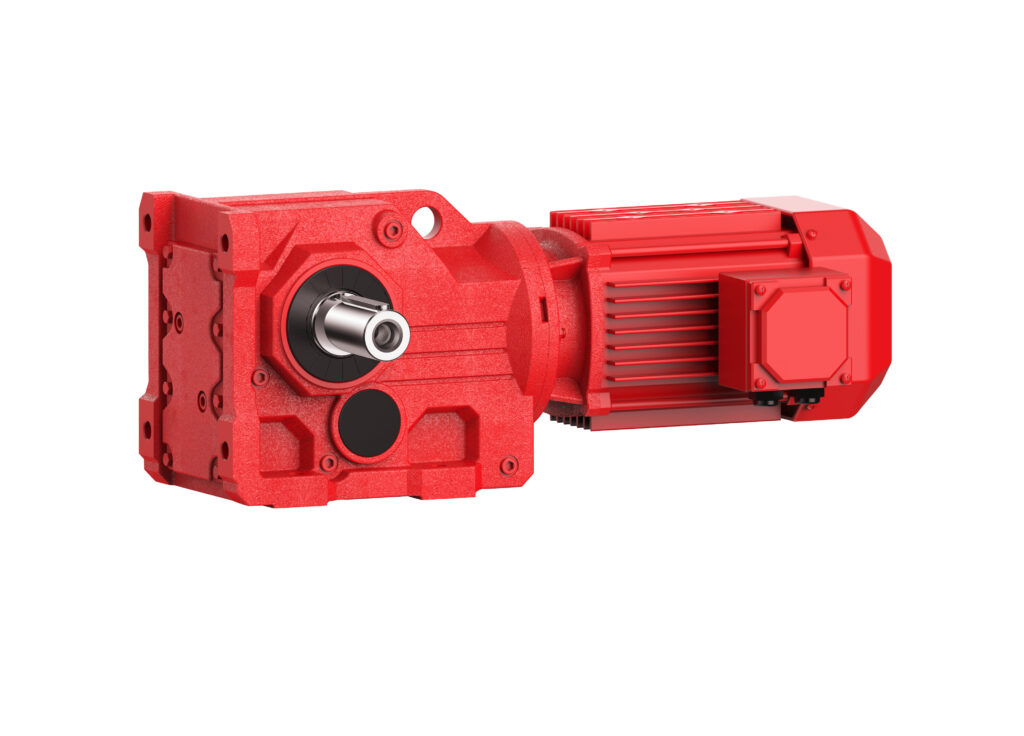 Developed to be used with an array of different types of motors, combined into mechatronics and connected in a range of installation positions to suit customer needs, the G-Series from Apex Dynamics UK features a choice of brake, encoder and force vent varieties, and base, flange or torque arm mounting options.
Each of the G-Series products has a high-quality, cast-iron housing, coupled with hardened and ground gearing, for accurate and smooth operation. Furthermore, as with all of the company's products, they come complete with Apex Dynamics UK's market-leading 5-year warranty and 2-3 week lead times.
Helical gearboxes are a novel transmission device used to optimise the modular combination system. Ideal for high load applications, helical gearboxes are highly durable high-performance gear reducers widely used in many industries. They consist of a set of cylindrical gears with slanted tooth tracks, providing higher contact levels, reduced vibration and low noise.
Mike Gulliford, Managing Director of Apex Dynamics UK says: "We are very proud of the G Series of helical gearboxes, which represents a significant expansion of our portfolio of products. Each gearbox or geared motor combination delivers impressively high performance, with average efficiency of 94%, long service life, accuracy and smooth operation. They can be adapted to an incredibly wide range of applications and scenarios across numerous industries and the impressive load capacity makes them ideally suited to high load applications.
"Our commitment to R&D, innovation and ensuring we provide our customers with the very best products for their needs enables us to keep growing our range. Apex Dynamics UK's expert team of engineers and motion control specialists are on hand to help customers find the right product for their specific requirements. If you are interested in finding out more about what the new G Series can do for your business, please get in touch with Apex Dynamics UK."