Filters are everywhere. A wide range of industry sectors use different types of filters within their processing plants or as part of their manufacturing procedures for chemicals, fuels, hydraulic oils, water and food products. The medical sector requires many filter products from face masks, respiratory filters, sleep apnea machine filters to micro filters for bodily fluids including blood and diagnostic systems. Occupational Health is another big area for filter protection against particles and gases within certain working environments and in addition, filters are an essential safety items for firefighters and military operations to ensure clean breathing air. A number of different filters are also used in the vehicles we drive, from domestic cars to mass transportation and earth moving vehicles, keeping the oils and fuel clean and the cabin air pollen free. Domestic vacuum cleaning has now evolved to have more filtration with primary and secondary filters. A common factor with all these filters is that they are mostly single use, ideally easily recyclable and are required in high volumes.
Filter Material Types
As one might imagine, with such a wide range of applications for filters and filtration, there is an equally diverse range of filter material types and a number of different processes required to manufacture the final product. Common filtration materials include those manufactured from Polyamid (Nylon), Polypropylene and Polyester, although for certain applications other polymers and material combinations may be used. Some filters are made up of several different materials in a laminate form. This may comprise of a combination of polymers together with fibrous natural or organic materials such as cotton or specialist papers.

Filter materials are often classified as woven or non-woven. Non wovens, typically polypropylene, can be produced by spunbond or melt blown processing, converting the basic polymers into a textile fibrous material of differing densities or pore size. Specialist single use medical micro filters often involve single or multi layer membrane type materials where pore size and the filter material thickness are extremely small with membrane thicknesses 5 micron or less. These different materials are then processed into a range of filter formats and designs. Some of these are pleated and others are of a flat scrim membrane type or even combinations of the two depending upon the individual application.
Ultrasonic Technology – Addressing Manufacturing Challenges
It's at these processing stages where ultrasonic technology has become the process of choice for cutting, sealing, calendering and the joining of filter materials. Ultrasonic technology today provides a state-of-the-art approach to the production of most filter products, and there are many examples of the process being integrated as the central process within machines that are capable of manufacturing a comprehensive range of filter component sizes.
The nature of the ultrasonic process makes it possible to improve efficiency, quality and operator ergonomics, whilst providing the opportunity to acquire valuable process data. In pleat type filter welding, these types of machines are used to ultrasonically weld and seal the longitudinal lip seam part of pleated filter membrane material to form cored circular section filter elements. Depending upon the specific filter type, this can involve working with a range of pleat depths, typically up to and including 50mm and filter lengths from 250mm to 1500mm. Combined with these variants, are the number of pleats that relate to the filter element diameter. Machine configuration can either be simple single item manual load or semi automatic with  multiple indexing of the ultrasonic head over the media or movement of media under a static head. The ultrasonic systems of this configuration are based upon Telsonic's USP3000E Press complete with a 20kHz MAG 3.6kW or 4.8kW generator.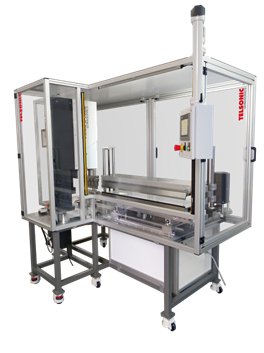 Telsonic programmable, servo driven indexing machine for pleated lip welding. The machine HMI also displays multiple weld recipies
A touchscreen interface allows the weld parameters to be changed from time to energy, maximum power, and via a linear encoder, weld by distance or absolute distance, plus welding with both amplitude and pressure profiling via a proportional valve. The HMI interface allows weld recipe input, recipe storage and set up with visual displays and the capability to output all weld evaluation data. The weld recipe facilities are fully electronic and include data selection in collaboration with the machine main PLC / HMI control system.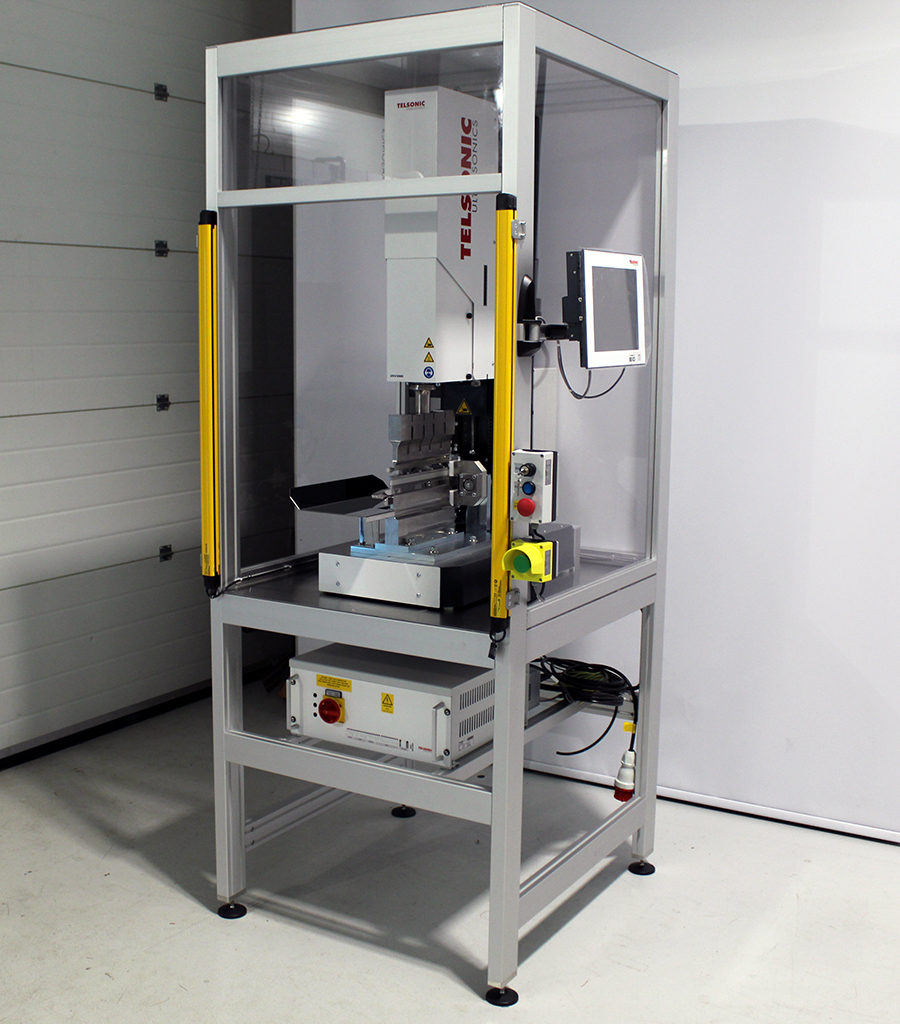 Telsonic manual, single load machine for pleated lip welding on circular core filters
Calendering multi-layers with continuously running ultrasonic heads is another common application where laminates can be run at speed continuously to create laminated multi-layer filter media ready for downstream filter cartridge / element production. For filter or membrane cutting applications, whether flat scrim types or three dimensional formed materials, the ultrasonic cutting process offers the ability to cut product at higher speeds compared to conventional cutting knives, without deforming or tearing the product, whilst at the same time providing a sealed non fraying edge.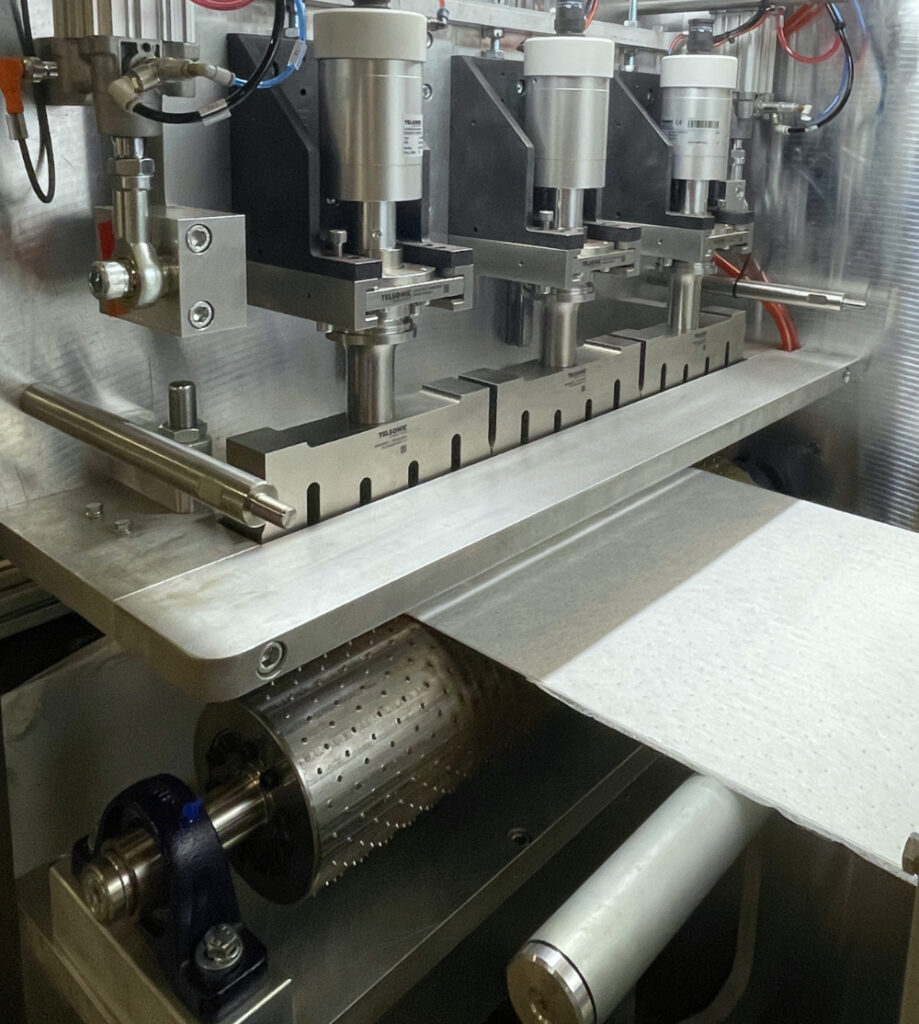 3-head ultrasonic Calendering machine
With the ability to select from the traditional linear ultrasonic process or Telsonic's unique torsional system, SoniqTwist® for delicate small medical filter membranes, the technology is capable of performing not only welding operations but also material cutting and cut'n'seal operations across a wide range of material types.
In a world where businesses must also consider the impact that their manufacturing processes have on the environment, ultrasonic technology is a natural choice as a fast, clean process, supporting recyclability, requiring no joint interface consumables, and providing the added benefits of measurable and traceable process data.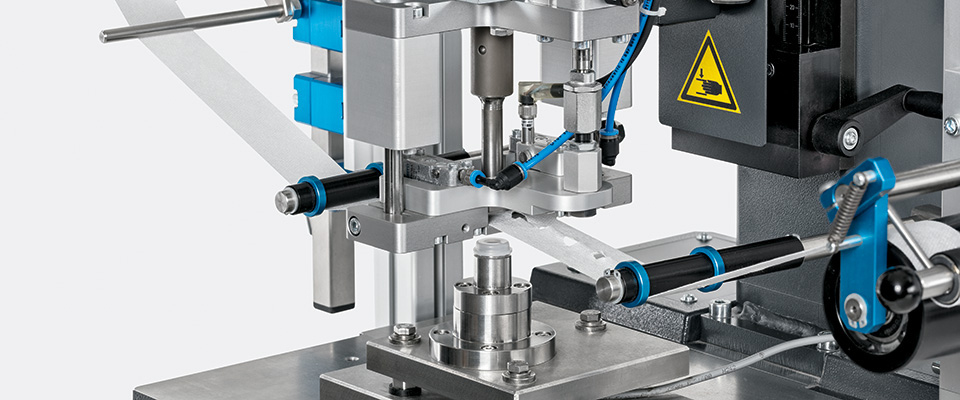 Telsonic SoniqTwist®system combining cutting and welding processes in one in-line movement for mini filter membranes
Telsonic UK offers a comprehensive range of ultrasonic modules and systems for a variety of plastic and metal welding, cutting, sealing, cut'n'seal, food cutting, sieving, and cleaning applications within a wide range of industries
Telsonic UK Limited
Unit 3 Vitrage Technical Park
27 Witney Road
Nuffield Industrial Estate
Poole
Dorset
BH17 0GL
United Kingdom