The role of software in our industry is becoming increasingly apparent. Digital twin emulation is becoming a valuable tool for bringing ideas to life and sharing them globally with the click of a button. It can also be used to differentiate your company from the competition by providing a more immersive and interactive experience for your customers as you deliver value through discovery.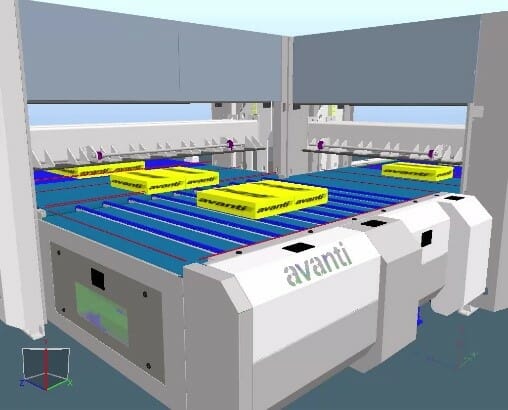 Below is an example of how Avanti Conveyors Ltd. a UK based OEM used AutoLogic System's capability and Rockwell Automation's Emulate3D technology. AutoLogic Systems are part of the Routeco Group.
OEM deploys Emulate3D Digital Twin with AutoLogic Systems to get to market faster.
Avanti Conveyors Ltd has been providing materials handling solutions for over 30 years, manufacturing their own range of machinery for corrugated board handling organisations worldwide.
The UK company has consistently grown over this period and has recently secured new premises in Derbyshire, UK.
With the continued growth and sophistication of their machinery, the ability to demonstrate and differentiate their systems and products to both existing and new customers fast became a priority.
But rather than use more traditional modelling of their products, Avanti wanted to go one step further and create a full dynamic digital twin of their sophisticated Pegasus Palletiser machine, connected to the control system deployed to each individual client. A true emulation.
By using such an accurate level of emulation Avanti would be able to clearly prove throughput capability while differentiating their superior operation and performance of their systems over their competitors.
Choosing the right Digital Twin solution
Avanti initially trialled other solutions unsuccessfully before they turned to Emulate3D by Rockwell Automation and started working with AutoLogic Systems, the UK Value Added Reseller and System Integrator for Emulate3D.
Emulate3D provides a single modelling platform to demonstrate solutions, validate designs, and virtually commission PLC code and plant management software. Resulting digital twins deliver continued value for plant optimisation and operator training. Avanti is now benefiting from this complete workflow provided by Emulate3D, with this case study focussing on sales growth opportunities.
Dr Danos Damianou, software director for Avanti said: "We had previously used the consultancy services of AutoLogic Systems. The combination of their expertise and renowned Emulate3D software was an exciting prospect for us. The team at AutoLogic worked closely with the experienced control engineers at Avanti to understand the complex machine operation and behaviours required of a digital twin to satisfy the control system".
'Digital Twinning at its Best'
Andy Parsons sales director of AutoLogic added: "Using the 3D mechanical design, Emulate3D allows you to not only add kinematic behaviours and constraints but also create product movement with complex physics behaviours and test system wide operation. Avanti is then able to simply connect the dynamic model to their physical PLC (and soft PLC) to validate the virtual machine is behaving as per reality."
The Emulate3D digital twin really comes to life as a power sales enabler, with supplier and customer in collaboration they can initialise the digital twin with actual customer orders and validate beyond doubt the machine capability.
Parsons continued: "A PLC based digital twin also takes machine selling to a whole new level. Add in the fantastic stakeholder engagement tools in Emulate3D, and I'm certain many OEMs could get to market faster."
By connecting a digital twin to the PLC, the model will run as a replication of the proposed equipment or materials handling solution. Outputs, speeds, configurations and any other variables can all be tested and proven within the model and clients can watch it working in real-time in state-of-the-art 3D graphics.
Dr Damianou continued: "We can say to clients and prospects 'here is our proposed solution and this is it working exactly as it would once installed within your existing facility'. It's an amazing sales tool and allows us to ensure our proposed solutions will deliver exactly what the customer needs.  In addition the model can be used for operator training and familiarisation well ahead of the actual machine installation, thus accelerating effective use of the machine. This, combined with our on-going work on design validation and virtual commissioning, is Emulate3D and digital twinning at its best."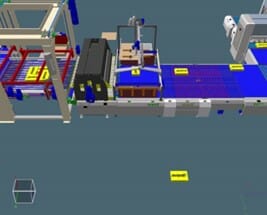 Video- https://youtu.be/klWoeK5lQcs
Found out more AutoLogic https://www.autologic-systems.co.uk/  and Avanti. https://www.avanti-conveyors.co.uk/