Kinco MK Series All-in-One HMI-PLC: Unleashing the Power of Connectivity and Performance
Bournemouth UK, August 2023: Motion Control Products Ltd(MCP), the Bournemouth based solutions provider for the automation market, introduces our latest product, the Kinco MK Series all-in-one HMI-PLC with the power of connectivity and performance.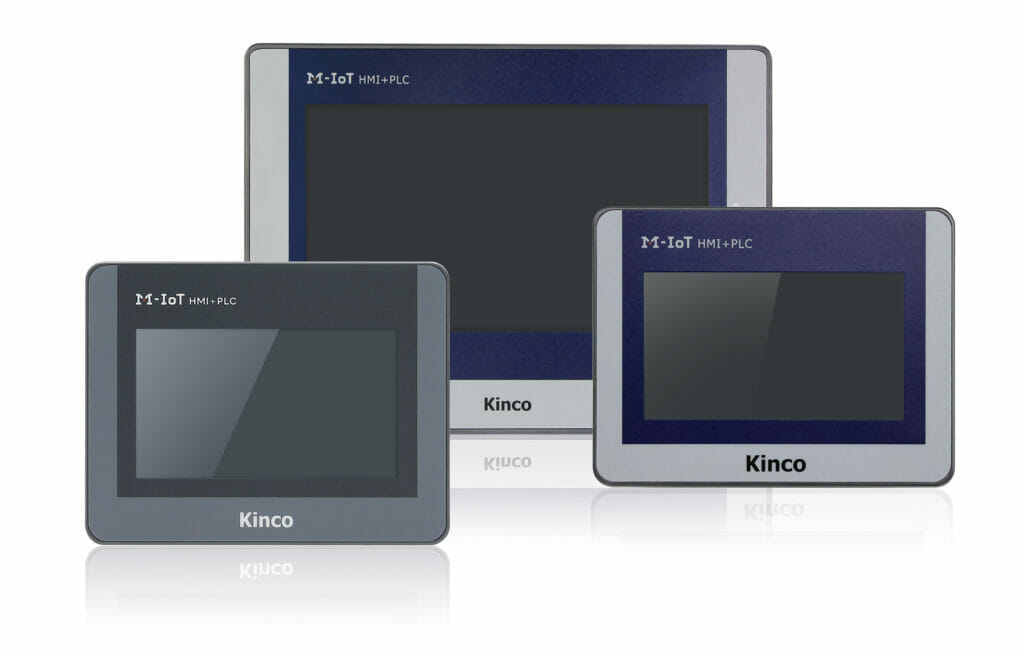 Building on the success of the renowned Kinco HP series, the MK series takes industrial automation to new heights with its cutting-edge features and advanced technology platform. With a high-performance CPU and the innovative DTools software, the MK series sets a new standard in functionality and user experience. The Kinco MK Series comes equipped with built-in Internet of Things (M-IoT) functionality, empowering users with seamless remote operation and maintenance capabilities. Enjoy programme upload and download, pass-through PLC communication via the network, VNC remote monitoring, and efficient equipment management. This intuitive and powerful feature opens doors to numerous application possibilities.
Our HMI-PLC hybrid MK Series now incorporates an industrial CPU with an impressive 700MHz main frequency, along with 128MB Flash + 64MB DDR2 large capacity storage. Coupled with the new generation touch screen DTools programming software, the MK Series delivers unmatched performance and responsiveness, meeting the demands of even the most complex industrial processes.
The MK Series PLC boasts exceptional flexibility with support for a wide array of extension modules. Users can effortlessly extend the system with up to 8 KS extension modules, ensuring cost-effective and scalable solutions that cater to diverse application needs.
With four high-speed pulse counters at user's disposal, data can be accurately measured and processed with ease. Each high-speed counter can handle up to 32 PV values and supports 32 "CV=PV" interrupts, providing unparalleled versatility. The high-speed counter supports various modes, including single-phase, dual-phase (Up/Down), and AB phase (1-fold and 4-fold frequency), with a maximum counting frequency of 50KHz. Its user-friendly HSC configuration wizard makes setup a breeze.
The MK Series is equipped with four high-speed pulse outputs, capable of handling both PTO (pulse string) and PWM (pulse width modulation) output signals. Benefit from additional software features like PLS (PWM or PTO), positioning control command group, PFLO_F (follow instruction), and more, enabling seamless implementation of simple motion control applications.
To facilitate efficient data exchange, the PLC part includes two RS485 interfaces, PORT1 and PORT2, each supporting communication rates of up to 115.2kbps. PORT1 caters to Kinco programming protocols, Modbus RTU master and slave stations, and free serial protocol. On the other hand, PORT2 supports Modbus RTU master and slave stations and free serial protocol, ensuring seamless integration into your existing systems.
The Kinco MK Series All-in-One HMI-PLC redefines automation with its unparalleled connectivity, performance, and versatility. It can seamlessly control and monitor the industrial processes through the M-IoT function, experience the power of an industrial CPU and advanced software platform, and extend the system with ease using a wide range of extension modules.
With the Kinco MK Series, we aim to provide more value to our users and empower them to achieve excellence in their automation endeavours. This all-in-one HMI-PLC spans industrial automation, energy control, material processing and handling and more. The Please contact us to learn more and explore the limitless possibilities it brings to your industrial operations.
Motion Control Products Ltd. not only provides the full range of products, but they can also work with clients in the design and integration of servo drives and motors / encoders for their specific applications. For more technical information, please visit our website https://motioncontrolproducts.com/motion-control/plcs/mk-series-hmi-plc.html or contact our sales team at +44 (0)1202 599922.