When it comes to material, surface and solid wood processing, choosing the right drive solution for the woodworking machine is critical. As different as the requirements for the drive controllers are, one topic is always important: ensuring the highest possible level of safety, says Mark Checkley, Managing Director of KEB UK.
Functional safety is intended to keep the risks posed by technical equipment to people and the environment as low as possible. Processing machines or machine tools, for example, can endanger machine operators through tools that rotate at high speed. To prevent this from occurring in the first place, we provide drive solutions with integral safety functions with or without an encoder. To avoid dangerous operating conditions, these safety functions monitor the speeds, directions of rotation or axis positions. As safety functions are already integrated in our drive controllers and interact optimally with our safety controllers, users can implement functional safety cost-effectively.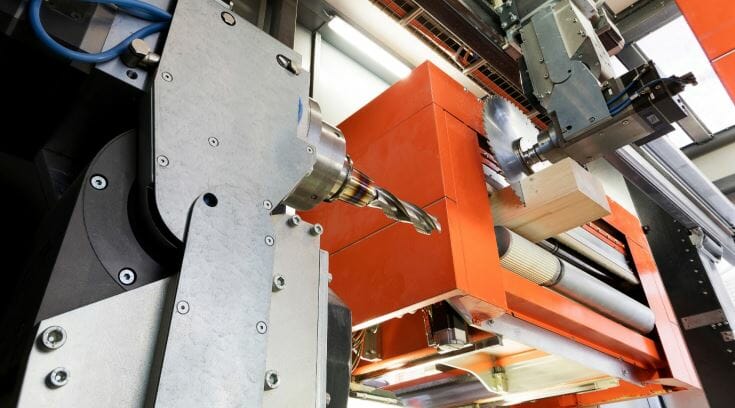 Safety features
In our 'PRO' version, the COMBIVERT F6 drive controllers and COMBIVERT S6 servo drives have Safe Door-Lock Control (SDLC) with Performance Level d (PL d). We developed this function and it can be used to lock the door or bonnet of the machine. With SDLC, the door can only be opened when the motor is at a safe standstill, in order to enable tool changes, for example, or the machine to be cleaned. In addition, we offer further speed- and position-dependent safety functions such as Safe Speed Monitoring (SSM) or Safely Limited Speed (SLS), also in combination with Safe Direction (SDI), whereby the drive safely monitors the speed. If the set speed limit is exceeded, an error reaction takes place and tools are ultimately protected from overspeed by SLS. Of course, we also rely on safe communication – as an established solution with Safety-over-EtherCAT or PROFIsafe, which is integrated in the 'APPLICATION' version of our drives.
Fire protection
In woodworking machines, fires can start faster than you might think. Even leakage currents of 300 mA can trigger a fire in the worst case scenario. That is why 300 mA residual current circuit breakers are required in the machines. With this in mind, we developed the COMBILINE E6 filter series – which is implemented in the latest generation of our inverters – which feeds the leakage currents in the inverter-cable-motor-network back into its own system. The filters are available as sub-, auxiliary- or collector filters and contribute to reducing leakage currents to a minimum and to lowering the risk of fire.
TechnoWood is in safe hands
For one of our customers, TechnoWood, tool spindles are at the heart of their high-performance woodworking CNC machines. Not only do they have to maintain their milling speed with high precision at maximum loads of over 100kW peak power, they must also come to a safe standstill in the event of a fault, for example, if the machining speed is set incorrectly.
In conventional machines, optical encoder systems are used for this purpose, which enable reliable speed detection. Our analyses within the scope of various customer surveys have shown that if there are failures in operation, it is usually related to faulty measuring systems caused by a 'crash' of the spindle without a rotating tool with the workpiece.
In combination with our COMBIVERT F6 drive controllers, a functionally safe speed measurement is made possible without requiring a complex optical measuring system. This not only enables continuously safe speed detection for synchronous spindles operated without encoder, but also reduces the cost of the spindle, while making it more reliable in operation, as no encoder needs to be installed. Compared to machines with a safe encoder, TechnoWood customers work more productively and more reliably. They no longer have to rely on safe encoder evaluations.
With the help of CNC controls, the motion sequences in the machine are conveniently programmed and workpieces are produced. The functional safety of light barriers and door interlocks is also a priority when it comes to user-friendly installation of the system. Together with the COMBIVERT S6 servo drive, TechnoWood relies fully on the modern FSoE (Fail Safe Over EtherCAT) protocol to avoid any line-related obstacles.The servo drives receive only the power supply via high voltage and low voltage DC bus and a patch cable for control. They are immediately ready for safe functional operation. By using this technology, not only does the control cabinet look incomparably tidy, it enables maximum reliability in continuous operation on the construction site and guarantees the highest possible failure safety on the market.
For more information, www.keb.co.uk