The Engineering Design Show (EDS) returns to The Coventry Building Society Arena on the 11th – 12th of October 2023, bringing together thousands of design engineers to source, learn and network.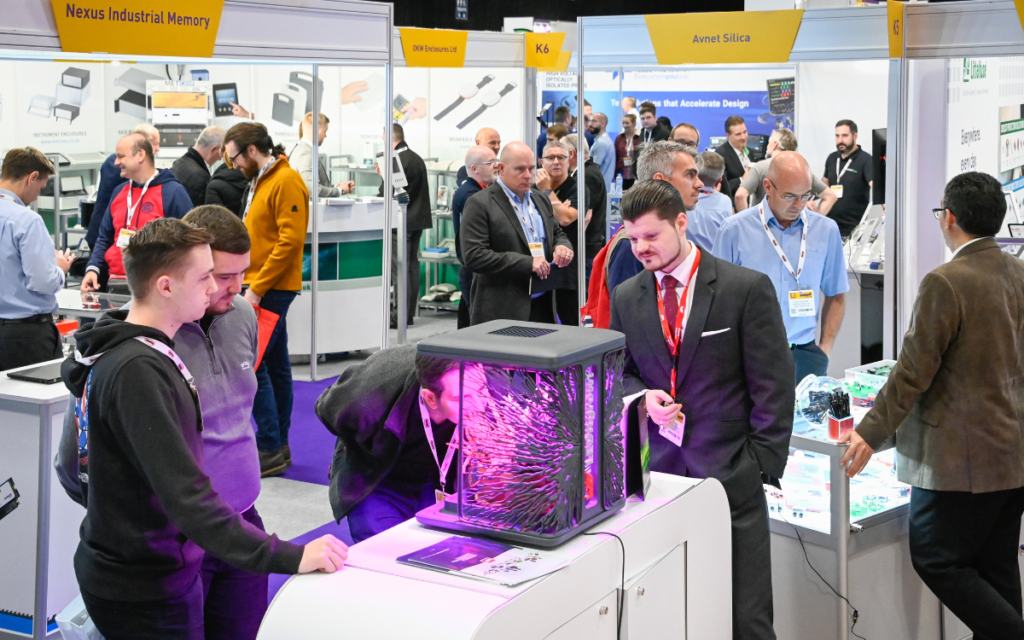 Expect to discover 200+ exhibitors, thousands of the latest innovations and products and 30+ hours of free-to-attend conference sessions and workshops. Plus, don't miss the dedicated robotics zone, an interactive VR display with Nottingham Trent University, 'The EDS Race to Place' games area (and a chance to win some fantastic prizes) and the end of day-one party, where all visitors, exhibitors and speakers are invited for free food, refreshments and live music!
There are so many huge names attending, with confirmed headline sponsors, Powell Electronics, Würth Electronics and Solid State Supplies. Dassault Systèmes are also sponsoring a new lounge area, creating a relaxing, networking space for visitors. Plus, we are pleased to welcome Mouser Electronics, Silicon Motion, Arrival Electronics and AWE, all sponsors for this year's show.
EDS is the only show in the UK that caters specifically and entirely for the modern design engineer from all market sectors, making it the 'must attend' event for the UK design engineering community.
THE EXHIBITION – WORLD-CLASS SOLUTION PROVIDERS
Meet with over 200 world class suppliers, representing the very best of engineering design. The packed exhibition hall will feature the latest technologies, materials, tools, software and services enabling visitors to source products and review supply chains.
Thousands of new products and innovations will be on display across the full mechanical, embedded and electronics landscape, including 3D printing, fasteners & adhesives, design software, drives and controls, embedded systems, labelling, laser making, motion control, PCB manufacture & assembly and many more. EDS provides a dynamic environment in which to interact with these suppliers, all under one roof at one time.
CONFERENCE & WORKSHOPS – LEARNING, BENCHMARKING AND DEVELOPMENT
EDS has three conference streams that will run in parallel across the two days. Curated by the editors of the industry-leading titles The Engineer, New Electronics and Eureka!, and drawing on a combined 340+ years of engineering journalism and insight, the three streams will deliver multiple case studies and practical sessions that address the key opportunities and challenges facing UK design engineers.
Topics that will be covered include, AI for Design; Robotics; Sustainability in Design; Standards and Compliance; Advanced Materials; PCB Design, IoT Cybersecurity and much more! The 30+ sessions will provide a perfect setting for inspiration, learning and debate.
Visitors can also join practical, exhibitor-led, workshop sessions that will be taking place across two separate theatres. The workshops are a brilliant opportunity to see the latest design innovation in action and put your questions to the experts.
SESSIONS YOU WON'T WANT TO MISS AT EDS 2023


Identifying Development Strategies Through Ethnography
Francesca Stephens, Head of Design, 42 Technology
When and Where: Eureka Theatre, Wednesday 11 October, 11:15am – 12:00pm


From Smart Sensors to AI: the New Frontier for IoT Applications
Dr Davide Di Palma, Engineering and Projects Director, HWM-Water
When and Where: New Electronics Theatre, Wednesday 11th October, 1:15pm – 2:00pm


The Impact of AI on Robotics Design and Deployment
Mr Rob Knight, Founder, The Robot Studio
When and Where: Eureka Theatre, Thursday 12th October, 10:15am – 11:00am


The Need for IoT Cybersecurity
Simon Loynes, Enterprise Sales Executive IoT/IIoT/Cybersecurity, Aeris Communications inc
When and Where: The Engineer Theatre, Thursday 12th October, 12:15pm – 1:00pm


Design Innovation for Extracting Energy from Flooded Coal Mines for Heating and Cooling
Professor Amin Al-Habaibeh, Professor of Intelligent Engineering Systems, Nottingham Trent University
When and Where: The Engineer Theatre, Thursday 12th October, 2:15pm – 3:00pm
*subject to alternation
EXHIBITOR ONSITE HIGHLIGHTS
Win an award-winning, 'best in design', Good Housekeeping Institute, Hoover!
The new HOOVER HL5 Home Upright Bagless Vacuum Cleaner will be raffled off at this year's Engineering Design Show, courtesy of Smallfry Industrial Design in conjunction with Hoover.

The winner will be announced at the EDS after-show party, taking place on the 11th of October straight after the show closes.
Visit Hoover on Stand E50 and be sure to check out their 'evolution of the Hoover' display.
The Robot Studio will be showcasing some of their incredible designs at EDS 2023
The Robot Studio's goal is to create 'a future where robots in daily life are as ubiquitous as websites are to the internet'. By developing designs as close to the human form as possible, The Robot Studio aims to create general-purpose 'robot(s) that can turn (their) hand to a wide range of human-centric tasks'.
The Robot Studio uses 'innovative mechanical designs with the latest NVIDA powered AI-at-the edge solutions'.
Come and meet them and their amazing designs at Stand C72
The future of deign with Nottingham Trent University
NTU product design show case will be demonstrating the creative , innovative projects of the next generation of product design engineers. Recent graduates of NTU's product design course will be on hand to overview their innovative projects and discuss their ideas with industry professionals at the show. Furthermore, we will be demonstrating the latest in visualization tools – Gravity sketch. The immersive technology will be demonstrated and available to test supported by our team of designers on hand to take you through your first steps to introduce you to the exploratory tool used in product design engineering.
Visit them on stand D1
POSITAL will be demonstrating their next-generation range of magnetic encoders & their energy harvesting device WINK
POSITAL is a global manufacturer and technology leader in the world of sensing and energy harvesting.
Tracing its history back to 1918, as FRABA GmbH, the company has been at the forefront of rotary encoder technology since the technology was first conceived. The expanded range now includes absolute and incremental encoders, absolute kit encoders (for motor applications), inclinometers and linear draw wire sensors.
Come and meet WINK and the NEXTGEN encoders at Stand E41!
JPR Electronics is joining forces with WAGO, market leader in the field of spring clamp technology
JPR Electronics are independent distributors with a global network of franchises, enabling them to offer an extensive range of products from recognised quality manufacturers, such as WAGO.
At EDS, they will showcase an exciting range of products including: PCBs, Relays, Tooling, Installer Accessories etc. Alongside this, you will be able to win some amazing instant prizes in their exclusive SPIN TO WIN section!
And if that wasn't enough, you can come to get some FREE WAGO Connectors and Accessories in their Pick N Mix area on Stand B54.
For more information head to https://www.engineeringdesignshow.co.uk/